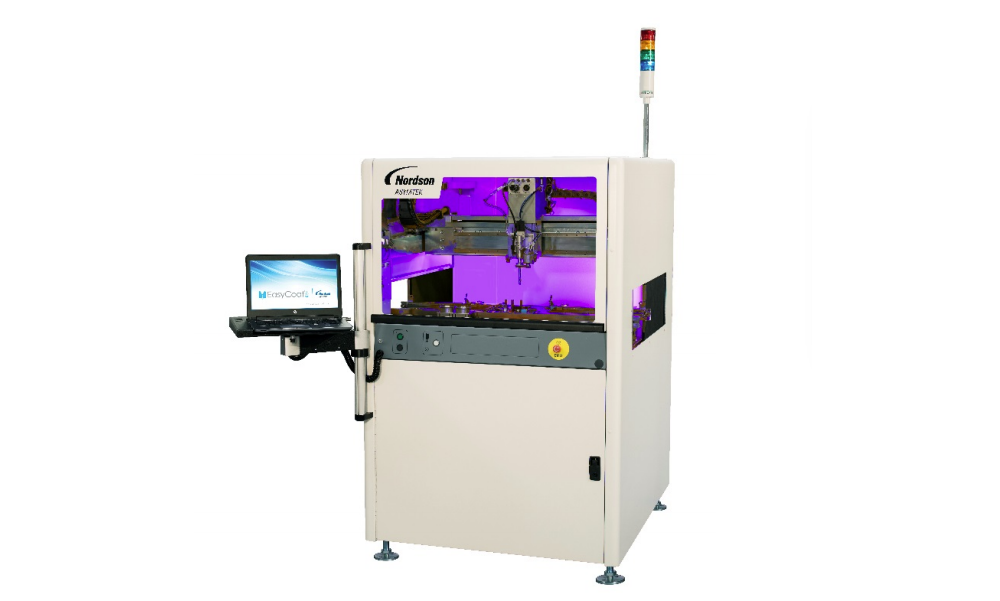 The Asymtek SL-940 Select Coat is the last addition to the Tef portfolio. This second coating machine in our facility allows us to complement the work performed by our first machine, also from Asymtek.
This new acquisition aims to continue the ongoing improvement of finishing for electronic circuit boards assembled by our company. We found an increasing demand of finishings aimed to ensure device protection and also for exported products, which must be ready to be delivered anywhere in the world.
Accurate coatings
The improvements offered by the Asymtek SL-940 Select Coat focus on its accurate coatings. The machine includes 3 filters: two conventional and a high-accuracy filter. Its accurate tip enables complex boards to be accurately and carefully coated.
Asymtek Select Coat machines have been designed to offer the greatest quality and productivity in selective coating automated processes. The closed-circuit system implemented in the SL-940 Select Coat ensures the highest coating quality on complex surfaces.
Process parameters are managed and saved with Easy Coat®, an intuitive software that controls the solenoid valves that set and monitor flow and air pressure. Many parameters can be monitored to achieve statistical controls and to perform process traceability.
SL-940 Select Coat benefits
High productivity provided by its high-speed, high-accuracy system.
Integrated process control that ensures a high-quality, automatically set coating in case the viscosity changes along the coating process.
Traceability supported by advanced monitoring.
Modular to be future proof.
Downstream currents ventilation for an efficient evacuation of VOC particles.
Made of stainless steel to simplify cleaning and improve resistance to harsh chemicals.
Easy Coat® software so the programmers can set, measure, record, and trace all the process parameters.
On-line and off-line programming.
More information about the electronic board finishings offered by Tef Montajes y Servicios in Finishing.
Follow us: